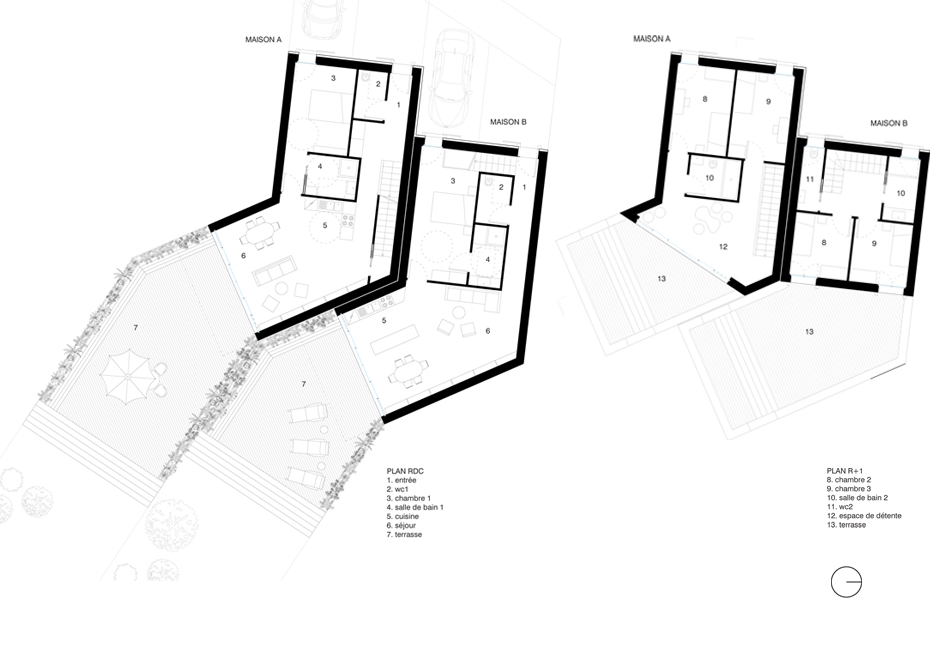 20 Residential Units «A Room with a View»
Faymoreau
Faymoreau is in need of urban regeneration and revitalization, of a lively and connected neighbourhood that accommodates everyday life. Our proposal is for twenty houses inscribed into the topography of the village; a new district envisioned as terraced balconies orienting the village toward the countryside and harmonizing with the landscape. It enriches and expands the network of public spaces, connections and pathways, allowing to link old and new inhabitants and offering a framework for a diverse public life.
The site is bordered by a new public street and divided into a row of terraced narrow plots. A vertical offset maintains privacy but allows for a certain intimacy while the sets of terraces respect the linear character of the context. Each unit is organized on three levels: on the ground floor is the living room and a bedroom with a bathroom; on the first floor are two bedrooms and a bathroom; in the basement is a cellar/garden shed. The orientation of each dwelling alternates with every level: the ground floor rooms face west and south, and upstairs the rooms face toward the West and East, with the new road and collective vegetable gardens on one side, while the other side opens to the terraces, the private gardens, and the landscape.
---
Location
Faymoreau, France (85)
---
Program
20 houses, natural swimming pool, communal and private gardens
---
Dates
2012 Contest Winner (People's Choice Award)
---
---
Architects + Urbanists
Tolila+Gilliland
---
Landscape Architect
Atelier Roberta
---
Area
6 000 m² (housing), 9 500m² (site)
---